Wednesday 05.07.17
Kongsberg Kunstforening
Festival exhibition: Tor Hvamen
Concert start: 12:00
Price single ticket: Free,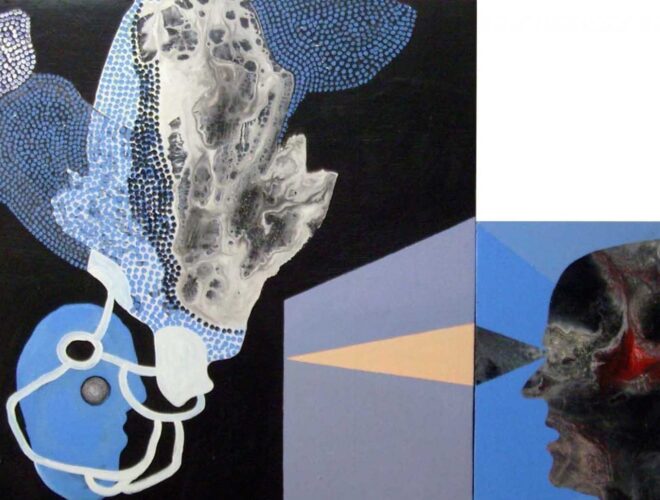 Festival exhibition - open every day from 12-19
The potter who became a visual artist; it is easy to understand when we see the vital and subtle paintings from him. His urge to create and strong personal expression had to lead him into visual art! Målaria is stylistically based on surrealism, they can give associations to Gerhard Richter, but he manages to make it completely personal, where he places the expression and style into our present. The non-figurative images span the entire register with strong contrasts both in form, value and colour, they contain a musicality and an accurate sense of rhythm; this is a festival artist who deserves his place!
Concert in the exhibition on Thursday 6 July at 13:
Øystein Hvamen Rasmussen and Bendik Giske: Klabauter
Based on Tor Hvamen's improvised surrealism, Øystein Hvamen Rasmussen and Bendik Giske create a work for percussion and saxophone. Giske's recent projects deal with the saxophone as a solo instrument where rhythmic structures and extended instrument technique create a sound image that can be associated with electronic music. ØHR's rhythmic understanding from jazz and klezmer forms the basis for extended compositions with room for improvisation where rhythmic structures are everything.
Øystein Hvamen Rasmussen really made a name for himself in the experimental performance-noise duo Zweizz & Homo Vinter in the mid-2000s, and has since shown himself as a versatile musician in collaboration with acoustic Kreg Visselman (Colombia/Sony Music), the rapper Son Of Light and Goylem Space Klezmer.
Bendik Giske started his career with awards for his work with the jazz trio Listen, and has later moved in the direction of electronic music in collaboration with artists such as Nils Bech and Sandra Kolstad. All the while he has been working with site-specific music for solo saxophone, which has made him noted in the art scene, most recently Art Basel Hong Kong 2016.
Øystein Hvamen Rasmussen (percussion) and Bendik Giske (saxophone)
Duration: About 30 min