Saturday 08.07.23
Kongsberg Musikkteater
Thomas Strønen: Et Ørlite Beat (commisioned work)
Last year's recipient of the festival's musician prize, the DNB prize, returns to the festival with the boundary-crossing commissioned work "Et ørlite beat".
Concert start: 1500
Single ticket price: NOK 450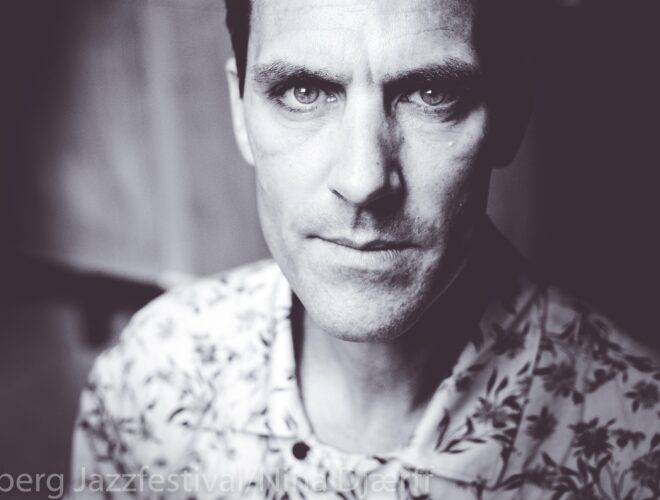 Thomas Pohlitz Strønen – A Small Beat
– physical sound forms with film and dance –
Thomas Pohlitz Strønen is among Europe's most active and prominent drummers. He is behind a number of solo projects and bands, has composed a great deal for stage and art projects, in addition to many releases on ECM Records and other record companies.
In 2023, he will return to the Kongsberg Jazz Festival, with the premiere of the commissioned piece "Et ørlite beat". Exactly one year earlier, he received the jazz festival's high-profile musician's prize – the DNB prize.
The performance of the commissioned work is a unique opportunity to experience Strønen, in what he promises will be a "cross-border work", with the use of, among other things, hip-hop references, film and dance. The work is beat-oriented and rooted in what he himself calls "physical music".
- Acoustic and electronic sounds are shaped by wind instruments that drive rhythmic motifs. Kompet compresses a minimalist beat, which has just enough information to make the bone move, without letting the wild animal loose, is the composer's own description of the work.
- I draw inspiration from contemporary music dressed in old school beats, and unite today's young promising talents with seasoned forces. The composition becomes a composed and improvised sound design with acoustic and electronic elements.
In "Et ørlite beat", Thomas Strønen will also focus on the visual, as well as the auditory. He will take the audience into a multisensory universe of music, dance and film.
The title of the work is taken from a quote by the iconic Norwegian jazz musician Bjørnar Andresen (1945-2004), who was in the habit of commenting on concerts. After once hearing a free-improvisational performance, he went on stage and proclaimed: "The only thing they need is a little beat!".
Cast:
Henriette Eilertsen – flute
Espen Reinertsen – saxophone/ electronics
Kalle Nyberg – sax/ electronics
Heida Karine Mobeck – tuba/ electronics
Veslemøy Narvesen – drums/ vocals
Thomas Pohlitz Strønen – drums/electronics
Ståle Storløkken – synth/piano
Jo David Lysne – guitar/ installations
Mathias Jin Budtz – dance
Marikken Heitkøtter - dance
Odd Einar Ingebretsen – film
Jan Erik Holto – light
David Solheim – sound