Friday 08.07.22 am
Kirketorget
Stig Brenner / Astrid S / Ramón
The stage is set for honest, thoughtful and uplifting pop, when some of Norway's top young artists play a triple concert at Kirketorget!
Concert start: 18:30
Single ticket price: NOK 795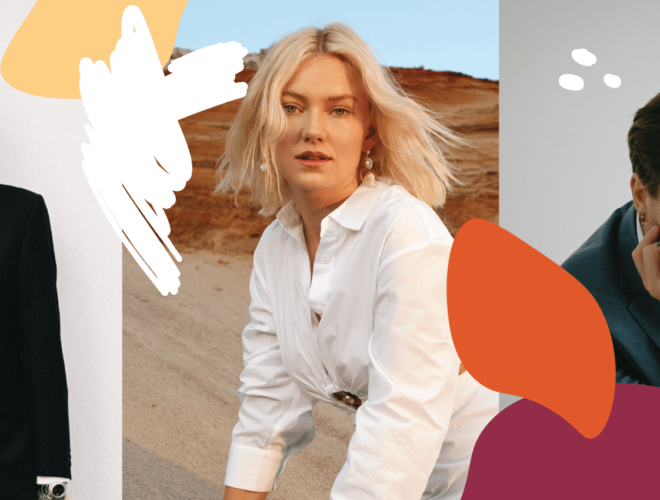 Stig Brenner
Towards the end of last year, Stig Brenner put the alias Unge Ferrari on the shelf and took a step further. Since his debut in 2015, he has topped the Norwegian charts and been nominated for both P3 Gull and Spellemann. With the new album from 2021 - "White Doves, Sort Magi", Stig Brenner has reached a better place than he was before. He has become safer, steadier and more thoughtful. The album has been created in Morocco, Bergen, Stockholm, Rome, Tuddal and Oslo. On the album we find songs such as "Hull I Foten" with Siyabång, "Miserabel" with Marcus & Martinus and Larsiveli, "Når Alt Ikke Er Nok" with Molly Sandén and "Fri". He has worked with producers and songwriters such as Filip Kollsete, Aksel "Axxe" Carlson, Benjamin Folkvord Pedersen, P2J and AriPenSmith. About the album he says; "It's always unusual to show off the creature you've polished, screwed and polished for so long. My only wish is that you take your time when you put on this album, let it live let it breathe let it do its thing. It may not be something for everyone, but if it's a lot for someone, it's everything for me." Now Stig Brenner is coming to Kongsberg Jazzfestival, where the audience can look forward to experiencing a clear voice in Norwegian music, and an elegant genre mix of hip hop, R'n'B and pop.
Astrid s
With over 3 billion sdreams of hit-sangels sabout "Hurts so good", "Think Before I Talk" and "Emotion", 6 EPs, sold out world tours, and winner of "The Year Spellemann" In 2018, has Astrid S undoubtedly held sI'm busy. Most importantly, she has looked it up sin own course, srequested and produced own songs and directed own music videos to complete debut album "Leave It Beautiful" sabout became sreleased in 2020. The music, sthe nurse with her uplifting energy has samassed millions of followers over all of them sthirsty ssocial media platforms across national borders - and the latest achievement on the block is the debut som sactor, in the role sabout "Cinderella" in the innovation of the iconic "Three Nuts for Cinderella". In addition to climate-compensating the tours sine, has artist Astrid S also started a separate one slove sbreastfeeding with the sustainability fashion house eco.logic. Sthe electricity cabinet, called By Astrid AS has sabout the intention to produce more environmentally friendly merchandise and other products and concepts Astrid sthis universe. The audience can look forward to singing along to catchy melodies and fine lyrics when Astrid S takes the stage at Kirketorget.
Ramon
23-year-old Ramón has already made a name for himself. Three EPs and a series of impressive concerts have attracted a wide audience, and the honest and vulnerable lyrics have struck an ever-growing group of fans and followers who recognize Ramón's openness, both in music and in life. One of the reasons is of course the songs where he tells recognizable stories about insecurity, grief, search, love and loneliness - but at the same time Ski-gutten is loved by fans and followers for his low-key humor videos and jokes with a good dose of self-irony on social media. The song "Smil pent" from the EP "SMILE PENT, STÅ I RO" which was released last autumn was number 3 on the top charts in Norway, and the few concerts the pandemic has allowed have been sold out with constant sing-alongs. It all reached a new climax when Ramón on 18 February this year released `ok jeg lover', which set a new Norwegian record with over 600000 streams in the first 50 hours. It consequently went straight to the top of the Top 20 on Spotify and VG-Lista Top 2021, streamed to gold in the first week. Now he's finally going out on the road, and with him he's taking his fantastic band with whom he's been playing for several years. They have a unique chemistry together on stage and deliver a bang of a show. Where 2022 was an introduction to the artist and the music, XNUMX will be the year Ramón seriously wants to show what lives in him, in the fans and in the project. With the debut album on the way, we can only look forward to the continuation, and to the concert at the Kongsberg Jazz Festival!
The doors open at 17:30
Concert start Ramón: 18:30
Concert start Astrid S: 20:00
Concert start Stig Brenner: 21.45pm
Kirketorget has several ticket categories:
Main area: 18-year age limit:
This ticket only applies to the area with an 18-year age limit, and will not apply to the area with a free age limit. If you are under 18 years of age, you must buy a ticket for the area with a free age limit.
Free age limit (no alcohol served):
This ticket only applies to the alcohol-free area, which has a free age limit. Everyone under 15 must be accompanied by an adult (18+). Anyone wishing to stay here must have a ticket for this area.
Separate HC area with space for wheelchairs and companions.
Companion: Companions of users with a valid official companion certificate can purchase a companion ticket. The ticket must be presented together with a valid official companion certificate.
Night buses:
This year, we have set up night buses on the night of Saturday and the night of Sunday, in collaboration with VY. The night buses depart from the Kongsberg hub at 01.00 Saturday 9 July and 01.00 Sunday 10 July.
The bus stops at the following stops: Darbu, Vestfossen, Hokksund, Steinberg, Mjøndalen, Gulskogen and Drammen
Tickets are purchased via THIS LINK or as an option on selected pages at Ticketmaster and costs NOK 180 including tax. Total available seats per departure are 300.