Friday 06.07.18 am
Smeltehytta
Særingfest
Særingfest is a full evening of music and sound in all forms and varieties, food and drink, mingling and summer atmosphere - quite simply a festival within a festival!
Concert start: 18:00
Single ticket price: NOK 420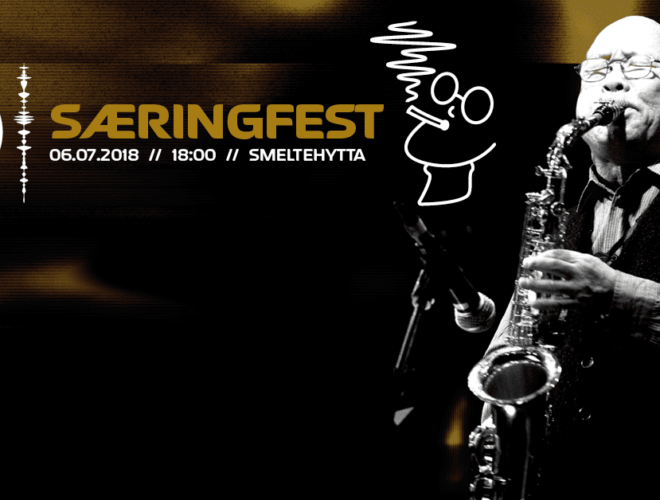 The doors open at 18.00 // Concert starts at 19:30
On the programme:
Agnes Hvizdalek / Joe McPhee / John Butcher / Pascal Niggenkemper / Ståle Liavik Solberg
Food Fashion / Randy Peterson
Susana Santos Silva / Kaja Draksler
Arashi (Akira Sakata/ Johan Berthling/ Paal Nilssen-Love)
Særingfest manifested itself for the first time in Kongsberg last year, and with the repetition this year is likely to become a tradition. The men behind this time are also Ståle Liavik Solberg and Paal Nilssen-Love, who in addition to leading a breakneck life as performing musicians also organize both concert series and festivals in the capital. Throughout is a fondness for free improvisation and the most experimental and wacky variations within jazz music, and always with an ear for the best the scene has to offer. They take all of this with them to Særingfest, which is well suited to accommodate everything from wild romps on the living room floor, via confidential conversations in the kitchen to cuddling in the bedroom.
Agnes Hvizdalek / Joe McPhee / John Butcher / Pascal Niggenkemper / Ståle Liavik Solberg
Joe McPhee has been involved in making music dangerous for a long time. He was already an adult when he released the classic Nation Time in 1971, and since then he has held it down with the world's foremost in the genre. A little over a decade ago he enjoyed rock star status here on the rock with the phenomenal Two Bands And A Legend and later he showed where the closet should be with his Survival Unit III and also played with the rising family in Universal Indians.
John Butcher has kept free jazz on the hardcore side in the early eighties. Since then he has played with all the big names the genre can show, participated in a mountain of releases and in a long series of more or less permanent groups. Godspeed You! Black Emperor booked him for his festival in hine hard and The Wire has called him the world's best saxophonist, so we're talking here about a guy who resonates far outside our comfortable queer bubble.
Vocalist Agnes Hvizdalek has been whispering, chirping, humming and hissing soundscapes on the Oslo scene for over a decade; a striking example of how it is experienced can be found on her album Index from last year.
The German/French double bass player Pascal Niggenkemper has also been in New York in recent years, where he has played with very good people, such as Nate Wooley, Dave Rempis and Chris Corsano. Niggenkemper treats the instrument in a way that appears unconventional even among the most blasé and hardened avant-gardists.
In addition to being the curator of Særingfest, Ståle Liavik Solberg is an active performer of the art of drumming. In the last couple of years, he has often been heard with very good English names such as John Russell and John Butcher. By the time you read this, the solo debut "True Colors" should be out on the free market.
Food Fashion / Randy Peterson
Violinist Mat Maneri is his father's son, and has been active for a number of years, including with prominent collaborators such as Cecil Taylor and current Joe McPhee. Always beautiful and demanding at the same time. Drummer Randy Peterson is a long-time fellow musician of both Maneri sr. and jr.

Susana Santos Silva & Kaja Draksler
The Portuguese trumpeter Susana Santos Silva has visited Norway repeatedly recently, including in a duo with Torbjörn Zetterberg. These days she is becoming more and more stable in Swedish and is in the wind with Fire! Orchestra and his own quintet, Life and Other Transient Storms.
The Slovenian pianist and composer Kaja Draksler released an album with Santos Silva a couple of years ago and the two have since proven to be a powerful combo, not least live. Draksler currently lives in the Netherlands, where she tends to hang out with the hottest musicians the scene has to offer.
Arashi (Akira Sakata/ Johan Berthling/ Paal Nilssen-Love)
Arashi means "storm" in Japanese, the pocket phrasebook teaches us, and is not a word chosen randomly on this occasion. Saxophonist Akira Sakata is one of the leading figures on the Japanese scene. He has been active since the early seventies and collaborated with such diverse people as Yōsuke Yamashita, DJ Krush and Sonic Youth's Jim O'Rourke. In the last couple of years, he has teamed up with a couple of our favorites from Scandinavia - Paal Nilssen-Love and Johan Berthling.
Since the mid-nineties, Nilssen-Love has played havoc with the world's biggest names in free improvisation, in bands such as The Thing, Atomic and Offonoff; to name just a few. For the past couple of years, he has operated as orchestra leader for his top-heavy big band Large Unit - in addition to organizing the Særingfesten, everyone with this is invited to participate.
Never mess with Botkyrka stylee or bassist Johan Berthling. He is notorious through hard-nosed free jazz crews such as Nacka Forum, LSB and Sten Sandell Trio. We expect full breeding wipeout when Hurricane Arashi ends the evening.