Saturday 05.07.14
Energimølla
pixel
Concert start: 19:00
Price single ticket: 250 + bill tax, -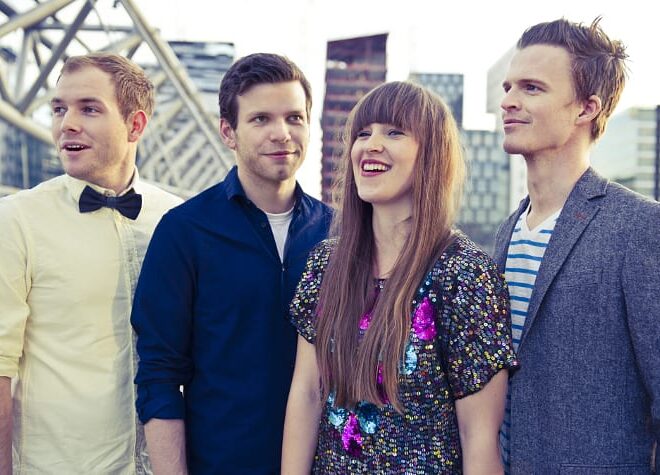 "pixel is guaranteed to be tomorrow's big Norwegian jazz and pop world sensation" exclaimed Erling Wicklund NRK P2 during his review of the band's second album We are all small Pixels. Now they are ready for the anniversary festival at Kongsberg!
In Pixel, bassist and bandleader combine Ellen Andrea Wang, together with saxophonist Harald Lassen, trumpeter Jonas Kilmork Vemøy and drummer Jon Audun Baar, the energy of indie rock with improvisational flexibility in a post-bop-pop combination. In Norway, Pixel has been hailed in the music press as one of the most exciting jazz bands at the moment. They were voted "band of the year" 2013 by Dagsavisen, and play at By:larm 2014. The music video "Call Me" was voted "Best international dance video" at the UK Music Video Awards in London October 2013, and Ellen Andrea Wang received Tonos challenger prize 2013 for the composition "Call Me".
Pixel has also impressed far beyond Norway's borders. After several foreign tours and festival visits, the song "Call Me" has been listed on American, German and French radio stations.
At Kongsberg we get to hear Pixel on Saturday evening at Energimølla, and we look forward to a concert experience as good as Johan Hauknes in Jazznytt had before he wrote the following review: «When the Norwegian Pixel enter the scene, it completely takes off. Here comes a band that has a clear voice, led by Ellen Andrea Wang on bass and vocals. Here there is variety, the low-key, thrust and energy, and more. This is a band that is already becoming the talk of the town across large parts of Europe, and yesterday's performance definitely doesn't stop this."