SOLD OUT!
Saturday 07.07.18
Old Kongsberg cinema
MARIUS NESET/SVANTE HENRYSON/LIONEL LOUEKE – extra concert!
The festival's prize winner Marius Neset can be heard in a new and captivating collaboration with the Swedish cellist Svante Henryson and the guitarist Lionel Loueke from Benin. Master's meeting!
Concert start: 22:30
Single ticket price: NOK 390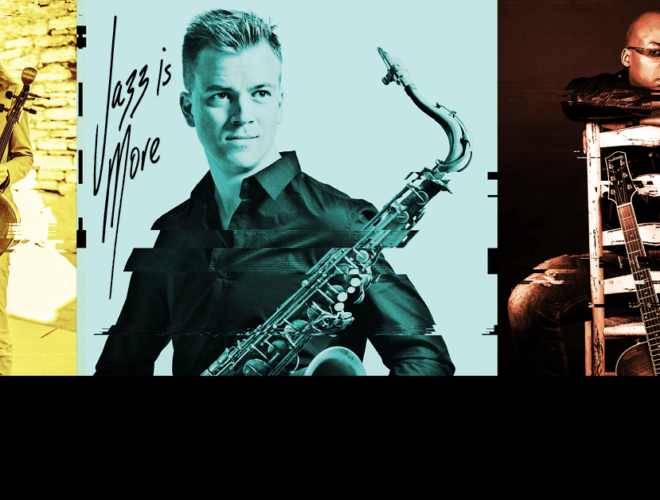 The framework for the concert will help give the audience a very special experience. On the stage in the old Kongsberg cinema, a 360-degree amphitheater is being built where the audience sits close to the musicians. The amphitheater has room for 110 spectators. Exclusive and intimate!
Saxophonist and composer Marius Neset has rightly been named one of the most brilliant young musicians not only in Norwegian jazz, but also in an international context. In 2017, Marius Neset received the Kongsberg Jazz Festival's major musician prize, which means that he will be heard in three different settings at this summer's festival.
Svante Henryson is known as one of the Nordic countries' greatest multi-artists. He plays both cello and bass, and operates in jazz, classical and hard rock. In 2015, Henryson received the Nordic Council's Music Prize, and he has toured with names such as Elvis Costello, Jon Balke and Anne Sofie von Otter.
Lionel Loueke comes from Benin in West Africa. He has played in Herbie Hancock's quartet for more than a decade. He has released several solo records on the renowned Blue Note Records and has played with Wayne Shorter, Sting, Angelique Kidjo, Dave Holland, Jack DeJohnette, Charlie Haden and many more.
This will be the first time Marius Neset, Svante Henryson and Lionel Loueke are on stage together - and we are incredibly excited about the result!
Marius Neset (saxophone), Svante Henryson (cello), Lionel Loueke (guitar)