Saturday 09.07.22
Gamle Norge
KEiiNO
KEiiNO combines danceable pop, Nordic melodic lines and Sami joik and has contributed to raising awareness of Sami culture. Now they are coming to the Kongsberg Jazz Festival!
Concert start: 23:00
Single ticket price: NOK 420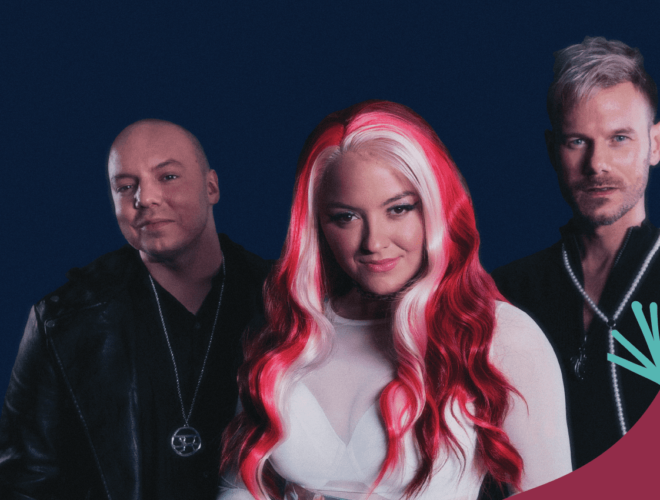 KEiiNO is far from a one-hit wonder, and the album OKTA from 2020 has been very well received both abroad and in Norway. Reviewers in Aftenposten and NRK also gave OKTA good reasons. In Norway, they topped the VG list, were streamed double platinum, were nominated for the Spellemannsprisen for song of the year and won two awards at the Sami Music Awards. After Melodi Grand Prix in 19', the trio has released seven singles, and the releases have been streamed over 45 million times. They have toured all over Norway, played to full houses in Europe and Australia and recorded three music videos.
Following their success in Eurovision 2019, they were appointed as ambassadors for the UN Year of Indigenous Languages. It was therefore important to the band that the album included collaborations with indigenous artists, including Australian ARIA winners Electric Fields, Haka band Te Hau Tahiti, Native American rapper Drezus and throat singer Charlotte Qamainq from Canada.
Before KEiiNO, Alexandra Rotan from Eidsvoll was a live vocalist for DJ star Alan Walker. Fred Buljo from Kautokeino toured with his rap duo Duolva Douttar, and Tom Hugo from Kristiansand composed hits for Kpop stars such as EXO and SHINee. One of the band's core values ​​is acceptance of being different, and they have taken up the topic in their lyrics since the beginning. In an increasingly polarized world, they want to be ambassadors for diversity, and want everyone in the world to feel free. Don't miss this concert at Gamle Norge!
Concert start 23:00
The doors open at 22:00
Remember that you can buy a Gamle Norge pass, which gives access to all 7 concerts at Gamle Norge during the festival. Link to purchase a pass here.
Age limit 20 years. No guardianship arrangement.
This year, we have set up night buses on the night of Saturday and the night of Sunday, in collaboration with VY. The night buses depart from the Kongsberg hub at 01.00 Saturday 9 July and 01.00 Sunday 10 July.
The bus stops at the following stops: Darbu, Vestfossen, Hokksund, Steinberg, Mjøndalen, Gulskogen and Drammen
Tickets are purchased via THIS LINK or as an option on selected pages at Ticketmaster and costs NOK 180 including tax. Total available seats per departure are 300.