Wednesday 05.07.23
The jazz box
Jazz talk with Now's the Time: Thomas Hylland Eriksen & David Murray
Thomas Hylland Eriksen and David Murray are today's guests in the Jazznytt blog's Now's The Time's festival pub!
Concert start: 14:00
Price single ticket: Free,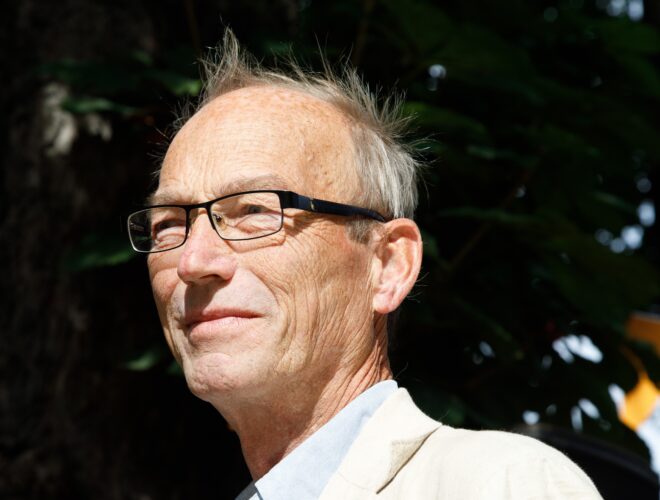 This year again, the public can look forward to the Jazznytt blog's Now's The Time's festival bar with current festival artists and guests! These go off at 12-13 every day (Wednesday 14.00-15.00), and is free for everyone.
Again this year, we have the pleasure that the daily jazz talks are hosted by Audun Vinger and Filip Roshauw from the Jazznytt blog "Now's the time".
We meet these guests in Jazzprat on Wednesday:
Thomas Hylland Eriksen about Moose Loose

Thomas Hylland Eriksen is best known as a social anthropologist and author, but he also has a lifelong love affair with the music that lies in the unruly borders between jazz, rock, pop and contemporary music. In the series "Norske Albumklassikere", Thomas Hylland Eriksen has written the book "Moose Loose - Elgen er løs" about the classic album signed by Jon Eberson, Sveinung Hovensjø, Brynjulf ​​Blix and Pål Thowsen. At the same time, a live recording of the band's concert at the Kongsberg Jazz Festival in 1973 is now being released. The album has a release date of 7 July 2023, and will be available for purchase at the festival.
David Murray

Murray has been a central musician in American and international jazz ever since he swept onto the loft scene in New York in the 1970s with bold self-confidence and an unstoppable desire to play. At the time, he was a typical free jazzer, inspired by Albert Ayler and Archie Shepp. But even then you could sense that he was also influenced by old saxophone giants such as Ben Webster and Coleman Hawkins. At the festival he will play with Norway's most powerful rhythm section: Ingebrigt Håker Flaten on bass and Paal Nilssen-Love on drums.