Friday 08.07.22 am
The jazz box
Jazz intro: Ask Morris Quartet + Stenøien/Hjemmen/Heide Bø
It's time to vote for the year's young jazz musicians 2022!
Concert start: 20:00
Price single ticket: Free,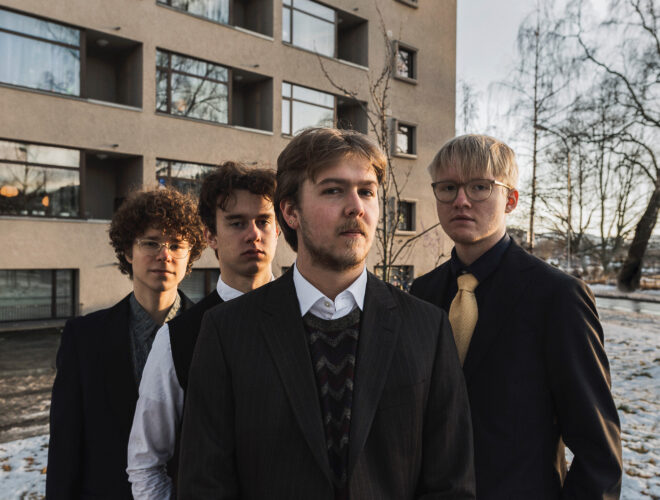 Saxophonist Ask Morris Rasmussen's enthusiasm for American straight-ahead jazz shines through when he composes music for his own quartet. There are catchy and accessible compositions with references to the pop music that he loves, but with room for the more traditional jazz language. As a composer, Ask Morris gives a lot of space and responsibility to his fellow musicians, who seize and take good care of the opportunity to leave their mark on the music. The quartet is inspired by bands and releases with similar lineups such as Per "Texas" Johansson's "Alla Mina Kompisar" and Elvin Jones' "Live At The Lighthouse".
Ask Morris Rasmussen (Tønsberg) – saxophone, Ville Lähteenmäki (Finland) – bass clarinet, Andreas Solheim (Asker ) – bass, Steinar Heide Bø (Trondheim) – drums
***
The three musicians in Stenøien/Hjemmen/Heide Bø met in Trondheim when they were studying at the jazz line at NTNU. The band was formed as a result of a shared love of the modern, explosive jazz scene in New York. They play self-composed music inspired by musicians such as Immanuel Wilkins, Joel Ross, Harish Raghavan, Marcus Gilmore, Matt Brewer, John Coltrane and Lewis Wright, where the American jazz tradition stands strong. The core of the music lays the groundwork for tight interaction, melodic improvisations and a strong groove.
Amund Stenøien (Trondheim) – vibraphone, Steinar Heide Bø (Trondheim) – drums and Anders Waltersdorph Hjemmen (Ski, Nordre Follo) – double bass
***
Jazzintro is a launch program where eight selected bands compete for the title of Young Jazz Musician of the Year 2022. Jazzintro is organized by the Norwegian Jazz Forum and the five festivals Vossa Jazz, Maijazz, Nattjazz, Kongsberg Jazzfestival and Moldejazz, with Gramo and Talent Norge as partners in the project