Thursday 06.07.17
Kirketorget
Blood, Sweat & Tears + Level 42
Concert start: 18:00
Price single ticket: NOK 720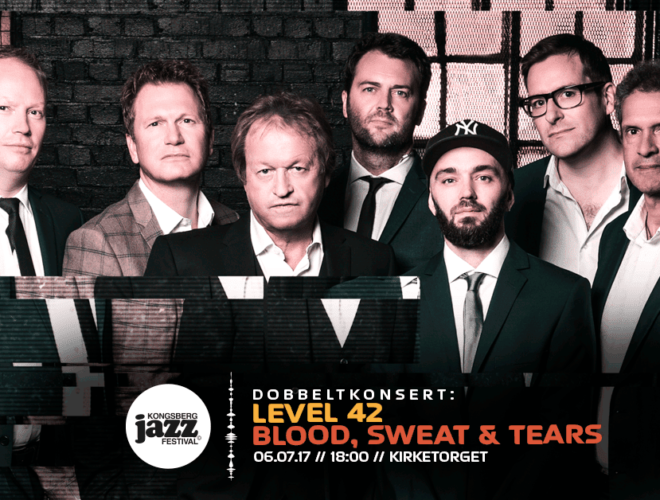 Two world-class soul bands are ready to create a terrific soul party at Kirketorget. Blood, Sweat & Tears and Level 42 make up a solid power pack of catchy and funky hybrid music with bold brass bands! The Norwegian vocal favorite Ole Børud will guest Blood, Sweat & Tears at their concert.
BLOOD, SWEAT & TEARS has had a staggering, star-studded member list and several giant pop hits during its 50-year history. We mention great musicians such as Randy Brecker, Jaco Pastorius, Mike Stern and epic hits such as "Spinning Wheel" and "And When I Die". The band's changing line-up has been one of its characteristics - and means that the music never stagnates and constantly reaches out to new generations of music lovers. Soul, rock and jazz in a flexible and funky combination - perfect for a Thursday evening at Kirketorget!
Level 42 ravaged the charts in the 80s with songs like "Lessons of Love", "Something About You" and "Running In The Family". They quickly became known for their funk-inspired and danceable pop music with clear jazz harmonies. Bassist Mark King created the band's clear signature with his lightning-quick bass playing and characteristic slapstick style. Level 42 has released 11 albums, which have sold more than 31 million copies worldwide.
At 18:00 the doors open
At 19:00 Blood, Sweat & Tears
At 21:30 Level 42
18 years age limit.
NB:
The previously announced Tower of Power has been canceled and replaced with Level 42. If you have a ticket for Blood, Sewat & Tears + Tower of Power, this applies to a double concert with Blood, Sweat & Tears + Level 42. If you want to refund your ticket, contact Billettservice on 815 33 133.