SOLD OUT!
Saturday 10.07.21
Krona Cinema
Barnivalen: You and I and we 2-3-4
Du og me og vi 2-3-4 is one of the country's most popular family concerts, with many exciting characters and challenges!
Concert start: 13:00
Single ticket price: NOK 120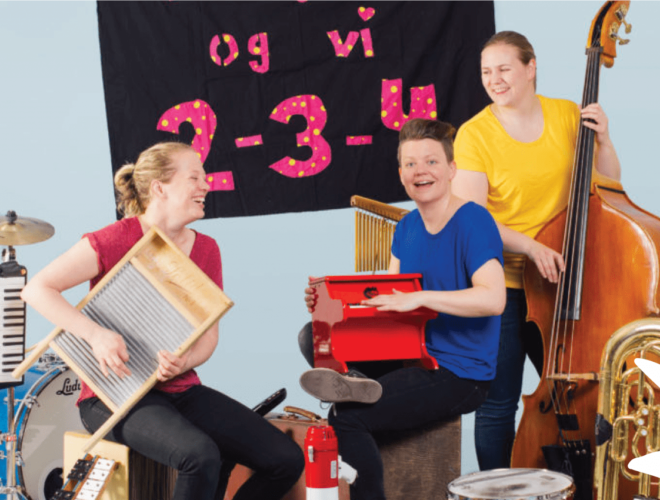 This fun group takes the children on a musical adventure and wants to teach all children around the world (and adults!) the art of clapping on 2 and 4! The performance is suitable for the whole family, especially children in the age group 3-10 years.
Here we get to know Mrs Rosenstrøm who plans to rob the bank, Regnskyen who needs to pee and Rat Ronny who is tired of kebabs and dreams of sushi all day long. In 2017, they released the album Crocodile in the Backseat, and this spring they are relevant again with their new album, Balcony party.
You and I and we 2-3-4 make up the star team Ellen Brekken (Hedvig Mollestad Trio, Falkevik, Tord Gustavsen Trio and others), Julie Falkevik Tungevåg (Falkevik, NRK's ​​Beat for Beat band, Erlend Ropstad, Synne Sanden, Ine Hoem and others) and Elisabeth Mørland Nesset (Adam Douglas, Hanne Kolstø, Marianne Kjærsund, Frøkedal & the Family).
Ellen Brekken (vocals, double bass, electric bass, tuba and guitar), Julie Falkevik Tungevåg (vocals, piano, keytar, accordion and guitar), Elisabeth Mørland Nesset (vocals, drum set, washboard, glockenspiel and mandolin)
-
Concert start: 13:00
The doors open: approx. 12:30
Refund guarantee:
A limited number of tickets will be released to begin with, but will be opened up to more if the rules allow it. Should the event be canceled due to restrictions due to Covid-19, the audience is guaranteed to get their money back.