Get tickets again!
Wednesday 07.07.21
Christians kjeller
Barnivalen: Only Egil and Aslag's even more super popular children's show
Synthpop and Tiktok-inspired dance moves from two favorites of both young and old!
Concert start: 14:00
Single ticket price: NOK 120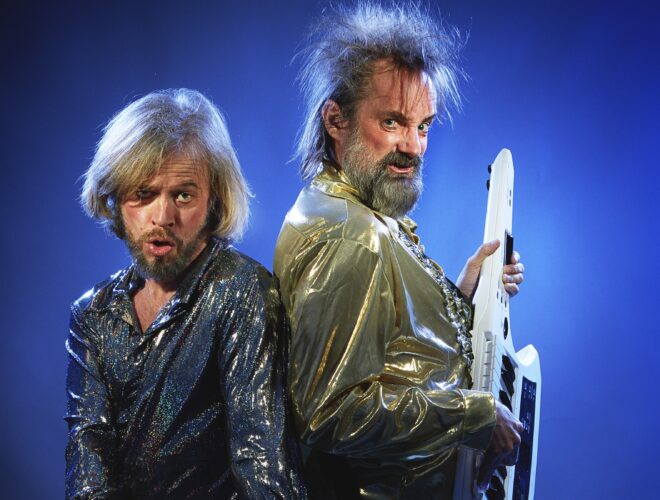 Only Egil and Aslag are two of our most experienced and popular children's entertainers who have delighted and excited children of all ages for years with their super popular children's show. "Morbid!" is a word children like to use to express their excitement!
Now finally comes the sequel to the public success! Here, the youthful fifty-somethings use modern tools such as synth drums, keytars, make-up and Tiktok-inspired dance moves to, if possible, communicate even better with the growing family. They believe that if they just have this in place they will achieve success. However, it turns out that being hip and modern is expensive, and so they have to steal to maintain the facade. They believe that they must pretend to be someone other than who they really are in order to achieve success. With lots of music, humor and irony, a story is told about the dark side of today's society where fashion pressure and artificial ideals of beauty permeate everything.
"Bare" Egil Hegerberg and Aslag Guttormsgaard are two Norwegian comedians and artists who have played together for a number of decades in many different bands, including Hurray Torpedo, Bare Egil Band and Black Debbath. The two are also regulars in everything from children's TV (Lesekorpset, Sangfoni, Hønsemannen etc), various feature films (Hakkebakkeskogen, Svein og Rotta, Kule Kidz grätter nicht and Gilbert's cruel revenge etc.) and TV shows such as Brille og Kongen commande.
Audience: Those who have parents who are stupid enough to think this is suitable for children.
-
Concert start: 14:00
The doors open: approx. 13:30
Refund guarantee:
A limited number of tickets will be released to begin with, but will be opened up to more if the rules allow it. Should the event be canceled due to restrictions due to Covid-19, the audience is guaranteed to get their money back.