Wednesday 02.07.14
Old Kongsberg cinema
Opening concert: Bestillingsverk w/ Trondheim Jazz Orchestra & Christian Wallumrød
Concert start: 19:00
Price single ticket: 390 + bill tax, -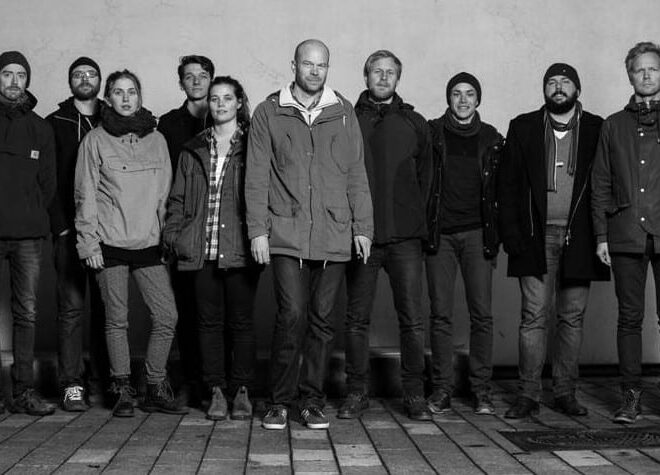 Wallumrød himself says about the work:
When the request came from Kongsberg Jazzfestival and Midtnorsk Jazzsenter, there were two impulses in particular that came forward, and that made such work: pulse and instrumentation. My brother (Fredrik) and I make up the duo 'Brutter', where we explore one-of-a-kind pulse-based dunk-dunk music, with drums, machines and electronics, and I thought it might be interesting to try something similar with a much larger crew. And not just any crew; this has also become an opportunity to work with a nice mix of people I've already had the pleasure of working with for quite some time, and a number of superb musicians from the younger part of the Norwegian underground and underground. It moves towards a rich instrumentation, a large dynamic range, and it will probably be quite pulse-driven, in the extended sense.
Christian Wallumrød has been a central figure on the Norwegian jazz scene since the mid-90s. Primarily through his own ensemble, which has released five records on ECM, but also in critically acclaimed bands such as Merriwinkle, Dans les Arbres and Close Erase. Fabula Suite Lugano with the Christian Wallumrød Ensemble was nominated for the Nordic Council's Music Prize in 2010. www.christianwallumrod.com .
Trondheim Jazz Orchestra is one of Norway's most recognized large jazz ensembles. Since 2000, TJO has collaborated with a number of Norwegian and international profiles. From Chick Corea and Pat Metheny to Erik Hegdal, Erlend Skomsvoll and Elin Rosseland. TJO is a flexible orchestra, without permanent members, but where the artistic director selects his line-up from time to time. www.trondheimjazzorchestra.no
Trondheim Jazz Orchestra & Christian Wallumrød
Ivar Grydeland – acc. guitar/electric guitar/pedal steel
Lars Ove Fossheim – acc. guitar/electric guitar
Anja Lauvdal – upright piano / harmonium /harpsichord/div. synths, electronics
Christian Wallumrød – grand piano/div. synths, drum machine, electronics
Espen Reinertsen – tenor sax
Eivind Lønning – trumpet
Heida KJ Mobeck – tuba/electronics
Fredrik Wallumrød – drums, percussion, electronics
Siv Øyunn Kjenstad – drums, gran cassa, percussion
Michael Duch – double bass
Tor Breivik – sound engineer
Kyrre Heldal Karlsen – lighting design
The concert is produced by Kongsberg Jazzfestival in collaboration with Midtnorsk Jazzsenter. The composition is supported by the Norwegian Composers Foundation.